The first impression counts - and as an agency we rarely say that. But: Web design, i.e. the appearance, style and usability of your digital presence, are of course crucial to the success of your website and applications. The web designers in our team are therefore specialists for tailor-made results that appeal with all graphic and multimedia means (rich media content) and at the same time encourage interactivity. This is how these colleagues also earn the title of User Experience Designer (UX Designer) and the respect as deep employees.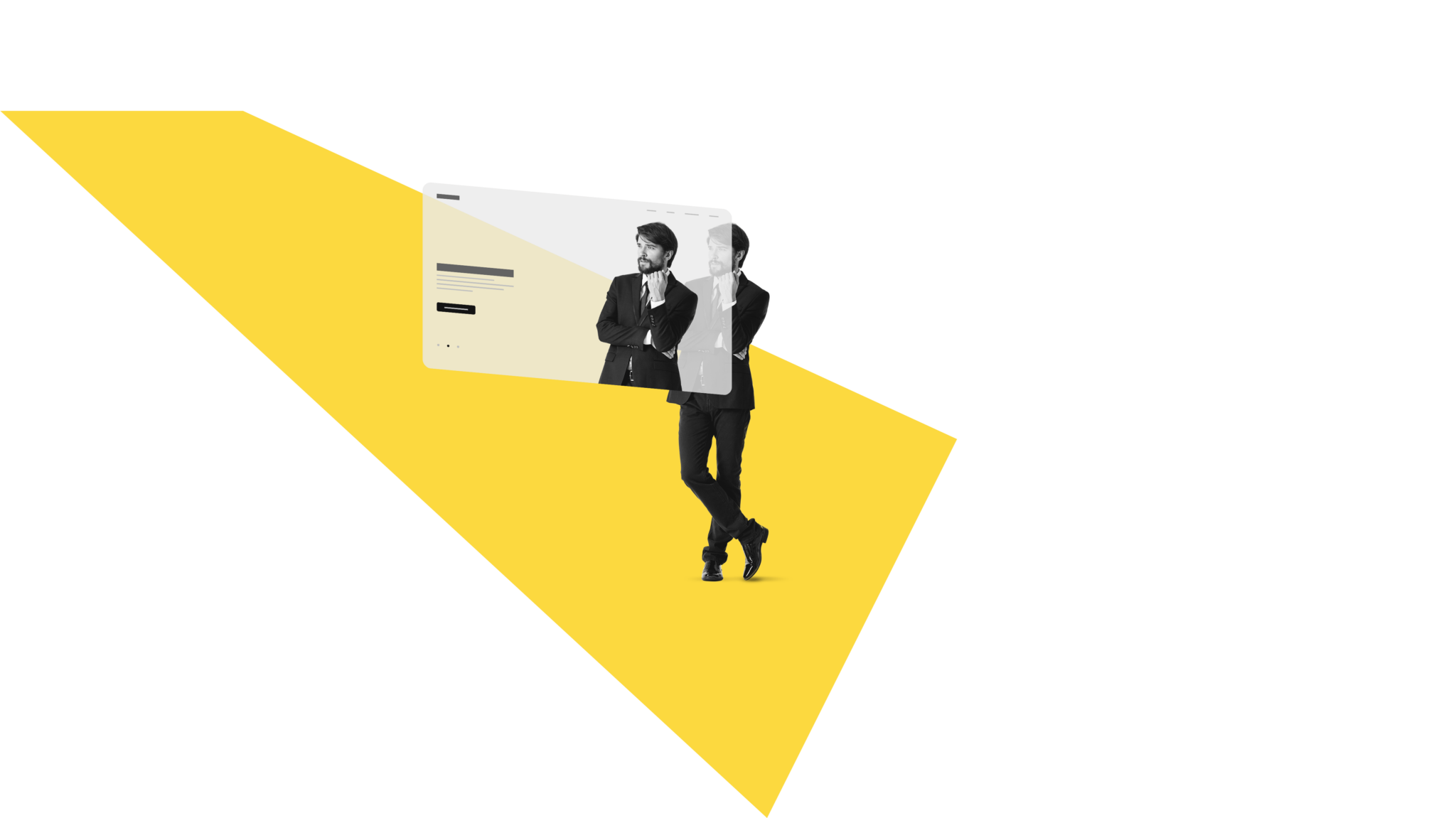 Web design and web development:
Two halves make a whole
In principle, if a picture looks nice on a wall, it has already served its purpose. If a customer clicks on a website and feels attracted by the design, only 50% are reached. After all, what would this website be if all it could do was look good? A one-click - and that leads to nothing. So this is where web development , i.e. programming, comes into play. The content and elements must act "behind the scenes", i.e. work - quickly - so that the user is ready for interaction (as long as possible).
Web design vs. template, flexibility vs. "not possible"
It looks so easy in advertising: for little money and with a certain basic understanding of digital technology, you can create beautifully designed websites yourself with just a few clicks. However, templates have little to do with (good) web design. Our digital agency creates individually developed website solutions for your company that allow flexibility and customization options and take into account the growth of the brand and needs right from the start, also through the technical implementation.
You won't get a template from us that worked well somewhere else. Nor do we work with ready-made themes and elements that we customize and install on WordPress. Because we don't want to have to say at any time that an update or an adjustment to this template is impossible. We answer - after we clarify in the consultation whether changes are useful or necessary in relation to Google, SEO or the user profile or meet an important trend - with: Your web design is a future-oriented tailor-made product, we have the tools to make it happen flexible to edit. Can't do it, doesn't exist.
Web Design - Beautiful facade and (hopefully) unforgettable experience!
The human eye is discerning - whether we find images, animations and videos interesting and beautiful has (alongside the power of words and sounds) a direct influence on the next action: the clicking movement. Web designers therefore have to meet numerous requirements in close cooperation with development and coding. Specially designed for the screen and geared towards user-friendliness, web designers who are also UX designers create individual solutions for a holistic screen design.
In his function as a UX designer, the "digital graphic designer" must develop a good concept that directly links the design to a positive user experience and, above all, performs immediately. In our web agency, this process includes, for example, the creation of "personas" and the active integration of users along their customer journey. UX design and UI design (user interface design), i.e. the visual design, run in parallel and come from a professional source in our agency.
Whoever answers well wins: Responsive web design
Saving at the wrong end of the web design process would be negligent. The days when we only fixed our eyes on stationary screens are long gone. Screens from laptops, tablets and above all smartphones or other devices are used in all conceivable (and probably also unimaginable) situations. Therefore, both the homepage and the entire website must work equally well everywhere, regardless of the device and its screen size. The prerequisites are a flexible and dynamic design, an attractive appearance and good usability. Today, Google rates the responsiveness of a page far more importantly and awards better rankings if the website is also mobile-optimized.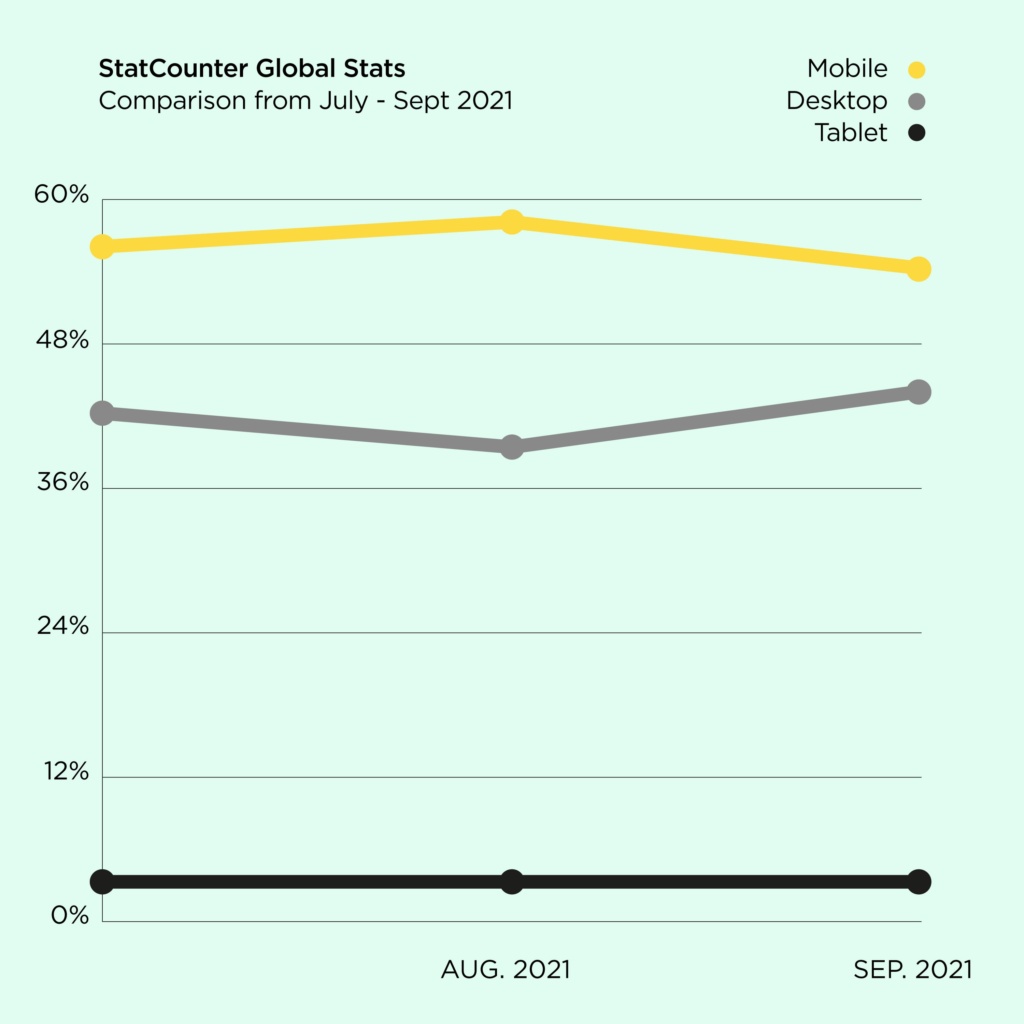 Source: StatCounter Global Stats - Platform Comparison Market Share
Our web design solutions are tailored to your business. And your customers – after a comprehensive analysis, it may turn out that your target group mainly surfs with their cell phones and tablets. In this case, "mobile first" applies. That means we adapt the design and usability primarily for these devices and ensure that your website has another technical and visual feature that differentiates your company from the competition.
From briefing to implementation:
The design process
at close2 new media
Briefing
We see you and your colleagues as part of the team working on a common vision. In order for the web design created for you to be successful, we develop a precise understanding of your project and your goals.
Analysis
Facts, facts, facts. We take a very close look – what your competitors are doing (and how they are doing it), who your target group is (existing and potential customers) and how interested users behave (generally and specifically on your website).
Conception
Our web designers think in all directions to arouse user interest with your website. From visibility to image to the purpose and intention of your digital presence. They also look to the future – without a crystal ball, but with a keen sense of trends.
Wireframes
Our web agency designs a so-called "wire model" at a very early stage. The focus here is on the user experience, regardless of the actual design.
Prototyping/Click Dummies
We leave nothing untested. With early feedback on our solution approaches, we can resolve and implement possible problems and change requests with less cost and effort than would be possible after final completion.
Mockups
The prototype is now provided with emotional and visual elements and brought to life. Images (e.g. also as placeholders), colors, dummy or final texts are given their destination in order to make structure and functions visible.
Implementation
What was previously a web design, we now turn into applicable web design. This includes both the final artwork and the coding, i.e. web development. For this purpose, the respective experts are in contact with each other in order to coordinate every detail.
Application
During the functional tests and debugging, the programmers use different situations to check how the website or the online service reacts when used and what is displayed in each case.
"
"A design evokes three reactions – yes, no and WOW! Wow is the goal."
Milton Glaser
The storyteller in the digital age
Storytelling is the magic word. Your company uses websites to tell its own story or that of the product portfolio. And that interactively. Online presence is a journey that the user is meant to undertake from start to finish - because the design is visually appealing and the content is exciting or informative or offers value over the competition. At the same time, the site must have a recognition value and the corporate design, from the paper business card to the digital presence, must speak the same language.
The foundation for creating the web design is the logo of the company. The colors of the logo determine the color choice of the web design, the font of the logo influences the selection of the typography. The development of the corporate design, including the website for startups, or the introduction of new products often goes hand in hand with the design of the logo. Even on a blank page, a good logo can pique a user's curiosity. Here you can find out how important corporate design is.
The multiplication five for really good web design
Web design builds on the brand design of your company and its products and/or services. Whether the web design and web development work can be determined within a very short time, because the competition is just a click away. Our agency specializes in custom website design, offering different solutions for different industries and company sizes. You can find out here which points make up the success of good web design. Our references will show you how we apply this knowledge.
But first, content!
Your business sells a service or product. The goals that your company wants to achieve with its website can be very different: From actual sales to registering for the newsletter to downloading documents. Good web design supports what you want to convey in terms of content, it is your mouthpiece to the customer. Your communication intention is the template for the look of your digital presence. You can see every day on the www that there are (almost) no limits. However, it is also obvious that there is sometimes a lack of good advice…
Intuitive feels best!
Unless that's the intention, web design shouldn't be guesswork. Unlike a book or magazine, which takes time to read, the web moves at high speed and attention spans can be a matter of seconds. The aim is to keep the bounce rate as low as possible due to slowly loading pages or hidden menu items. The structure should not only be logical, but intuitive. This satisfies the user's needs, increases his or her sense of achievement and extends the user's length of stay.
Surfing is silver, action is gold
Of course, the existing customer should make themselves comfortable on your website. But what about a new target group, with potential prospects? The motto for them is: …and action! The aim here is to create inquiries, complete online purchases, increase downloads or registrations, i.e. to generate leads and conversions. The call to action must be placed at the appropriate place. As in real life, less is often more - if the user is confronted with too many offers, a so-called option overload arises, which in the worst case leads to termination.
Online marketing – your friend and helper
We see ourselves as an agency with a holistic approach . When we analyze a project, we look at it from different angles because we are firmly convinced that the digital success of your company rests on a solid foundation with several pillars. A really big pillar is online marketing. Our web designers know that from an online marketing point of view, they have to include a minimum amount of text in the layout in order to make the website visible to search engines. There are also other functions such as customer ratings that ensure higher rankings. We look at the design from a visual and results-oriented perspective and design with interdisciplinary expertise.
Better a long relationship than a short pleasure
Our aim is to offer sustainable web design . Through the site, your company should be perceived by (potential) customers as trustworthy and future-oriented and should trigger a positive feeling just by recognizing the logo in the header. At the same time, the design should meet the zeitgeist and stand out from the competition with videos, images, graphics, animations and simple navigation. This "reliability" develops into sympathy, i.e. indirectly into customer loyalty. And it is designed for the long term, not for a quick, emotional reaction that fizzles out just as quickly.
Not back to the future, our visions start in the present!
We not only observe trends for you and your company and leave room for possible implementation as part of our projects, but also get together to discuss "What if..." topics. With a lot of inventiveness, which could well become reality. VR (Virtual Reality) and AR (Augmented Reality) are no longer fantasies and meeting in virtual spaces is already a reality.
In the (foreseeable) future, the classic website will certainly develop into a tool whose possibilities we can only guess at. But thanks to our creative minds, techies and many training courses, we have developed a reliable sixth sense and a good connection to Captain Future ... and we are happy to share that with you!
What does web design cost?
Of course we can and would like to give you a precise answer to this question. However, we only create a concrete offer after we have discussed the current and target status of your web design with you. The services included in the implementation are just as individual as the web design for your online presence. We look forward to an initial, non-binding discussion with you in order to define the scope of the project with you.
Would you like to get an idea of ​​our web designers, web developers and online marketers? Then go this way to the team . Can we convince you without our team photos? Then contact us directly…
You find all this exciting, but are you more interested in app design and app development? Can we also!